The CoBrA movement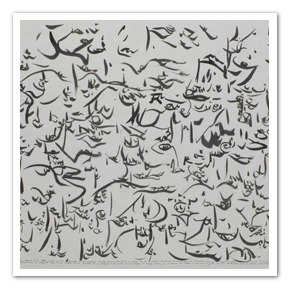 The CoBrA movement was created by Christian Dotremont, Asger Jorn, Karel Appel and Constant Corneille after the end of the war, in 1948. The artists, of Belgian, Danish and Dutch nationalities, chose as the name for their movement an acronmym based on the capital cities of their countries of birth - Copenhagen, Brussels and Amsterdam. 
The group was characterized by a wish to distance themselves from the western rationalist culture that had led to war, as well as the classical contraints of art. Initially, the members continued to explore surrealism, recuperating the principles of psychological automatisms and abstraction. For CoBrA, liberty was primordial, the liberty of gesture to make form explode. Matter and gesture were essential. The accent was not on the result, but on the spontaneous process of creation that led increasingly towards abstractionism.
The movement remained in the shadows for some time before manifesting itself in repeated publications and exhibitions. Although it only lasted for a short period (ending as early as 1951), today the CoBrA movement is considered a flagship of the post-war period. It was during the 1960s, when artists such as Christian Dotremont, Pierre Alechinsky, Asger Jorn and Constant Corneille gained international success, that people began to realize the importance of the movement in European history of art. 
Through his sensitivity and his meetings with artists, Thomas Neirynck became close to the CoBrA movement and acquired some of their paintings, but this was not the only area that attracted him.